BEACH VOLLEYBALL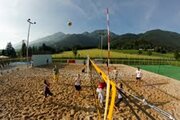 Playgrounds for beach volleyball were built in 2010 and are the best in Slovenia by the quality of sand. Customer feedback has been outstanding. Beach volleyball is the perfect sport for summer recreation. It combines all the components of recreation: from motor ability to calorie consumption and, ultimately, is an excellent way of treating painful joints because movement in the sand strengthens the ties in our joints.
BEACH TENNIS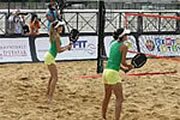 If you are unfamiliar with the rules of beach tennis, we can send them to you. Before starting playing you will be informed about the rules of the game.
CLIMBING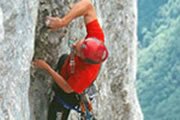 You can opt for climbing on an outdoor natural wall in the unspoiled nature, not far from Lake Črnava. However, if you want to climb on an artificial wall, you have several options in city Kranj, choosing between different directions. Climbing on outdoor natural walls in Draga Climbing spot is 2 km away from Preddvor and is pinched between the trees in the narrow valley below the Zaplata mountain. From Preddvor you drive along the road towards Nova vas (800 m) where you turn on a gravel road (400 m), then continue walking for 10 minutes. The degree of difficulty in the most directions goes up to the seventh grade, so Preddvor is suitable for beginners as well as those who can cope with the most demanding routes.
CYCLING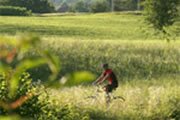 Around the Hotel Bor there are many possibilities for cycling in nature. You can choose between flat paths, or you can choose more demanding cycling terrain. The length of the path you can freely accustom to your abilities. Options: Jezersko, Kranj, Tržič, circle around the complex Brdo Možjanca, Krvavec, ... NOTE: rental of bikes at the TIC Preddvor. Prices to rent an electric bike: 1h - 4,5 €, 6h - 10 €, 1 day - 15 €.
MOUNTAIN BIKING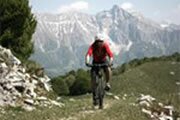 If you like extra adrenaline rush, challenging terrain and you do not have any fitness problems we have right in the vicinity of our facility an option for cycling on St. Jacob hill. Jezersko, with its rich natural and cultural heritage offers a number of cycling trips of varying difficulty. In case you just love the adrenaline rush of a descent, you can visit and adrenalin filled descent below the gondola Krvavec.
NORDIC WALKING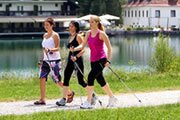 Nordic walking is one of the most healthy and natural human activity that has developed from a cross-country skiing. It is intended for all ages. Where: Assembly in front of Hotel Bor.
GUIDED TRIPS AND ALPINE TOURS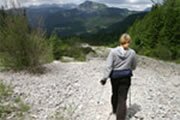 Surroundings of Preddvor and Jezersko are a great starting point for mountain hikes, guided tours, themed tours or random walks for enjoyment of the unspoiled nature. You can explore yourself, or we can arrange a guide.
ADVENTURE PARK JEZERSKO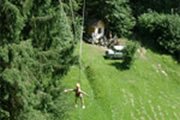 Location: Jezersko in the immediate vicinity of the village. Meeting place is Hotel Planinka. Open: Every Saturday from 10am to 15pm for groups over 6 people at any time upon request (previous reservation required). Description of the adventure park: Ascent along the "Mecesn" way and viewing of the Kamniško-Savinjskih Alps from a viewing platform and walk through a 20m long "Indiana Jones" suspension bridge. Later follows an avenue of two adrenaline lifts (flying fox) - a descent on the steel cables under the canopy of trees in total length of 100 meters followed by an adrenaline swing.
Difficulty: easy, suitable for everyone
Duration: 3 hours
Age group: no restrictions
Prices: Listed in the table below
Best time: from April to October
Number of participants: 10-100 people
NOTE: For safety reasons the adventure park visitors are required to measure 140 cm in height with outstretched arms
Description of the adventure park + Alpinist: Contains the entire program of the adventure in addition to: - Abseiling (descending on a rope from a vertical rock wall) and - The ascent on ferrate (secured climbing route)
Difficulty: Easy, but the program Alpinist has a mountaineering theme and requires extra courage and minimum age of 16 years.
Duration: 3 hours Age group: no restrictions
Prices: Listed in the table below
Best time: from April to October
Number of participants: 10-100 people
Safety: Safety is taken care of in a professional manner by experienced instructors and with all necessary technical equipment! The adventure park has gained an INTERNATIONAL SECURITY LICENSE from European Federation of adventure parks.
NOTE: Required Equipment Sports shoes and comfortable sports clothing. We take care of providing other technical equipment. This note applies to both programs.