Only few places in Slovenia have such an exceptional location and rich historical and cultural traditions as Preddvor and its surroundings; various archaeological sites (Gradišče nad Bašljem, Vrtačnik, St. Jakob ...), four castles and numerous sacred objects of inestimable value testify to the rich history and interesting lifes of the people living on the sunny side of Kamniško - Savinjske Alps. The highest peak of Kamniško - Savinjske Alps is Storžič; a prominent peak with a characteristic pyramid shape together with the neighboring hill Kališče, an extremely popular hill, which regularly hosts hikers, or grassy slopes of Zaplata with a mysterious forest patch in the middle of the slope, known as Hudičev Borst (The Devil Forest), and many churches on the hills below them all together offer a beautiful shiny reflection of their wonderful appearance on the surface of the lake Črnava.
HOTEL BOR AND GRAD HRIB (THE HILL CASTLE)
Hotel Bor and Grad Hrib is a comfortable small resort in an ideal energy flow location, which we named Energy Park Preddvor. Located directly by the lake Črnava in mighty shelter of the Storžič mountain, mysterious Zaplata and Kališče, it provides a perfect location for germination of noble ideas. With its unique location by the beautiful lake the Resort offers a memorable stay and experience. With us, you'll find everything you need and want for a quality relaxing holiday: nice ambience, excellent local cuisine, the unique nature around the lake, forests, grasslands and mountains in immediate vicinity and friendly hotel staff will arrange for your pleasant stay.
We also welcome your pets.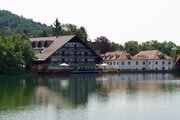 RESTAURANT BOR
Restaurant Bor offers healthy and delicious homemade food; it is especially famous for its magical home-prepared desserts. You can spoil your senses on the terrace of the Hotel Bor with a beautiful view over the lake. On the terrace you can indulge yourself in the first spring sun and in the summer heat you can enjoy a relaxing view of the water surface in the shade with a cold drink or your favourite book.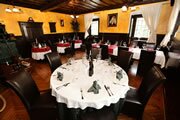 SPORT ACTIVITIES
Location of the Energy Park Preddvor will also satisfy all of the sport enhusiasts. Nordic walking, hiking, boating, fishing, skiing, badminton, skating, cycling, playing tennis and beach-volley are only some of the sports available to you here.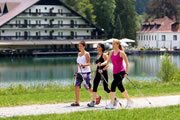 CONFERENCE CENTRE
We also organize seminars, business conferences or small meetings, which take place in the nearby Grad Hrib (The Hill Castle). We offer pleasant and modern conference halls together with wide gastronomic offer that will supplement each business meeting or training as a memorable and harmonious whole.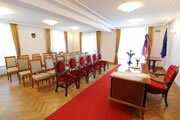 WEDDING OFFERS
In Hotel Bor we provide a variety of wedding offers. We offer three different types of wedding protocols: The Basic, The Castle and The Gardeners Wedding Protocol. At wish we also organise wedding receptions in the Restaurant Bor, to grant an unforgettable day with excellent cuisine and surprises.