GRAD HRIB (THE HILL CASTLE)
Right next to Hotel Bor is Grad Hrib, which was built in 16th century. It has undergone some conversions during the Baroque period and has been preserved as such until today. In front of todays entrance to the manor is a heraldic marble plate embedded in the wall showing the emblem of Egkh – Hungerspah aristocracy, who were supposedly the owners of the castle in first half of 17th century.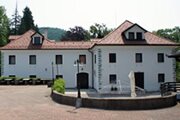 THE CASTLE PARK
The Castle Park is preserved and is one of the most beautiful manor parks arranged in English style, so that its south side passes into a natural forest and on the western side it reaches over the Bistrica stream ending at the manor. The visitors can take a walk down the regulated Small Forest Learning Trail.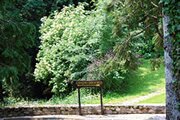 In the manor we provide accomodation and the congress centre facilities as well as the wedding facilities. Stay in the manor is a unique experience for guests as they can enjoy their holiday like the real lords of the castle.