A la carte restaurant Bor with summer terrace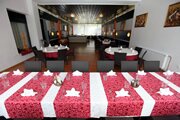 A la carte restaurant operates within the Hotel Bor.
It operates all year long, has 50 seats and is appropriate for family and business lunch meals.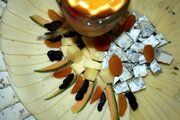 In the summertime you can also enjoy in culinary delicacies on the hotel terrace, which has a unique feature, as it is located immediately above the lake's surface. It's also appropriate for private parties and celebrations in summer evenings, when you can escape the overheated town streets and enjoy your evening here.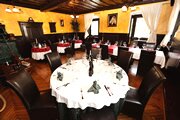 In the evenings you can enjoy listening to gentle sounds of birds and crickets, breath the refreshing mountain air and look at a magnificent sunset. The kind staff of the Hotel Bor will create a pleasant and unforgettable experience with a cocktail aperitif, rich cuisine and light delicious desserts, which are impossible to resist.
Besides the healthy, light and delicious food, the restaurant is famous for its house specialties and tasty house desserts.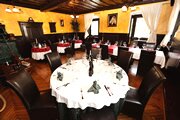 You can visit the castle terrace with ice cream garden, where you can indulge in the first sun rays in the springtime and in the summer heat you can sit in pleasant shade, relax while looking at the water surface and refresh yourself with cool ice cream desserts. Its capacity of up to 100 seats accepts also large groups. Here, you can celebrate the most beautiful events, from weddings, anniversaries, birthdays… on your own terrace with a wonderful view over the lake and the unspoiled nature. We serve cocktails, hot and cold buffet and other things in the Castle pavilion, located right on the castle terrace.